I'm guessing you've been on your share of diets. (And isn't that, right there, proof that diets are not the answer?)
Although they rarely deliver permanent weight loss, diets do succeed fabulously at one thing: they're great at creating a dieter's mindset. And that mindset tends to follow us around, even when we're in between diets.
What's the dieter's mindset? It's a tendency to see every food as either "good" or "bad." Even worse, it's a tendency to see OURSELVES as "good" or "bad" depending on what we've eaten that day.
It's the dieter's mindset that puts thoughts like these into your head:
"I shouldn't have eaten that cake after lunch. But as today is obviously ruined. I might as well go out for nachos after work."

"I'll be extra good tomorrow."

"It's sugar-free, so make it a large."

"That's it: No more carbs (or whatever…) until I lose five pounds."
Ironically, that dieter's mindset doesn't actually help you weigh less, does it? No, it locks you in to a lifetime of dieting.
One of the most important things we do in the Weighless program is to pull that dieter's mindset out by the roots. In place of those toxic messages, we plant ones that, over time, really do help you weigh less.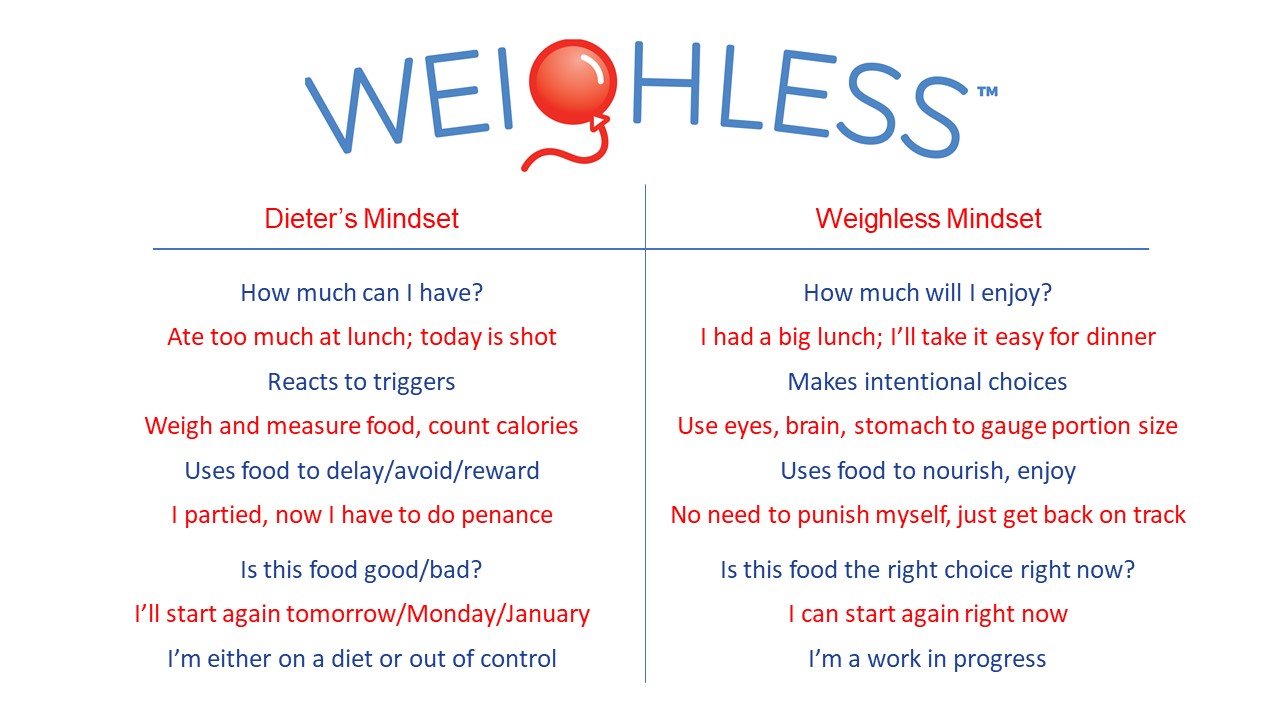 The Weighless Mindset is is about making friends with both food and yourself–and reinforcing the habits that support the life (and body) you want to have. Just ask the hundreds of Weighless members who have stopped dieting and started weighing less! Here's some of what they have to say.
Ready to join them? Sign up for your free 7-day Mindset Reset here.